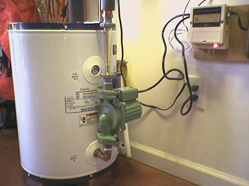 Twelve gallon drainback tank, pump, flow gauge; differential temperature control on wall.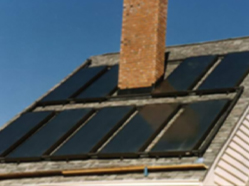 Array of collectors for residential drainback system. Both systems pictured here supply heat for domestic water and radiant floors.
Solar fluid is water with an anti-corrosive additive. The fluid drains back from the collectors when the pump is not operating.
Protected from overheating in summer as well as freeze damage in winter, the system can be sized for space heating (more collectors and larger heat exchanger) in addition to water heating.
Larger pump is needed for solar loop, so drainbacks are slightly louder than pressurized systems.
Low maintenance (fluid level and buffer content should be checked at least every two years).
For design and tax credit information, owner's manuals, and other information, see our Library page.
Contact Info
Emails
Fred Stewart
Licensed plumber and solar thermal system designer
Tom Willis
Licensed plumber and NABCEP-certified system designer
Richard Copsey
Installer/technician