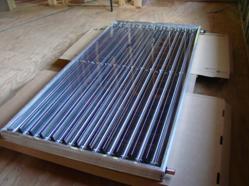 Solargenix Winston Series Collector
A reflector behind each riser tube concentrates even diffuse sunlight.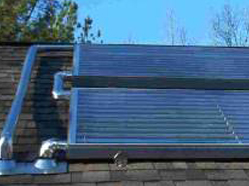 Solargenix Energy CPC-2000 Collectors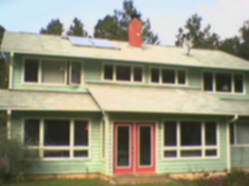 Solargenix Collectors Installed
An eleven Watt PV panel supplies pump power, so no household electricity is used to produce hot water.
Uses a safe propylene glycol/water mixture in the collector and solar loop pipes
Efficient and virtually silent operation
Can use the latest CPC collector from Solargenix Energy or the AET finned-tube collector
Can be run on either 120 V AC or 12 V DC (see photovoltaic power option, below)
Very low maintenance (five year checkup is recommended)
Pressurized systems can come with a photovoltaic-powered pump. This includes a PV panel, mounting, 12V DC pump; and it eliminates the need for AC control and pump. This option adds $200 to the Pressurized System price.
For design and tax credit information, owner's manuals, and other information, see our Library page.
Contact Info
Emails
Fred Stewart
Licensed plumber and solar thermal system designer
Tom Willis
Licensed plumber and NABCEP-certified system designer
Richard Copsey
Installer/technician